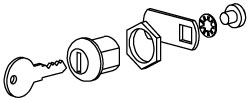 In response to requests for increased protection of your valuables, we now offer a choice of 10 different key cuts to secure contents in Production Basics drawers and cabinets. In the past, unless requested otherwise, all of our drawers and cabinets came with locks that were all keyed alike.
Effective November 1, 2012, drawer & cabinet kits will ship without locks, but they are available by choosing a lock configuration and key cut.
To choose locks KEYED ALIKE for drawers or cabinets, order your quantity of the same key cut.
EXAMPLE:
One (1) 8613, 6" Double Drawer
One (1) 8610, 12" Drawer
PLUS
Three (3) 6800, Key Cut A (or any Key Cut Letter)
For locks KEYED DIFFERENTLY, choose any combination of key cuts.
EXAMPLE:
One (1) 8606, 6" Drawer with Mounting Kit
Two (2) 8616, 18" Suspended Cabinet with Mounting Kit
PLUS
For your convenience, key assemblies and keys are stamped with the key cut letter. For reorders or loss, simply request the key cut of your drawers or cabinets ordered.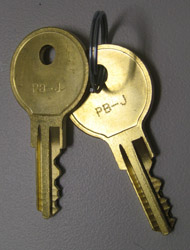 NOTE: 3" Drawers and Writing Shelves do not accept locks.
Have questions about locks? Contact a Workstation Specialist at 800.318.2770 or email sales@pbasics.com